"Merchandising as a service – that would be an ideal and cost-effective solution for many operators in the retail industry, for whom managing or growing their own field organization is not a profitable option."
The year was 1995 and this idea captured the thoughts of Jouni Raitanen – the future founder of Tradehit.
The retail's operating environment was not easy for companies in the industry at the time. Growing sales in increasingly competitive circumstances required efforts in merchandising. On the other hand, for many companies, the cost of maintaining an own field organization was too heavy.
Soon, Raitanen's idea developed into a vision, and the business idea clarified: merchandising in the retail distribution channels as a high-quality outsourced service, "the same way one's own field organization would do it".
Confidence in the uniqueness of the business idea required action – and so began Tradehit's success story.
A forerunner in merchandising – technology at the core
From the start, Tradehit has been known for its strong expertise in the trade sector. In-store marketing and point of purchase product presentation play a vital role in the retail trade, affecting the consumer's purchase decision – and merchandising know-how definitely is Tradehit's core competence.
Also, the transparency of the service, innovation and advanced utilization of technology have been the principles that guide Tradehit's operation.
The company's merchandisers work in the field as the eyes and hands of the client. To convey the up-to-date picture to the client, Tradehit has developed a business management system Tradetool, which offers customers real-time information from the field.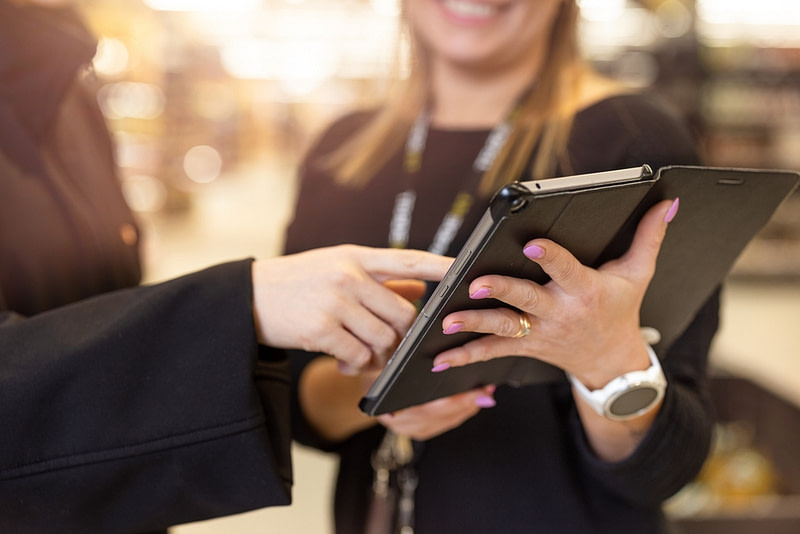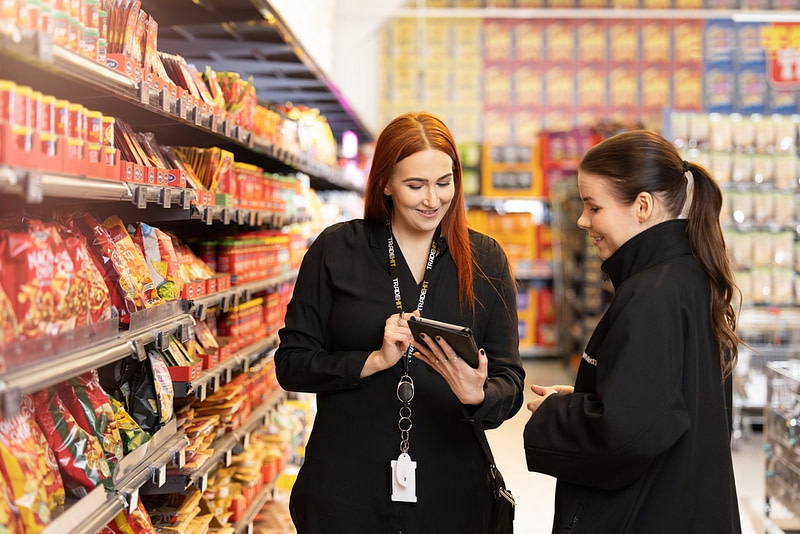 Prioritizing the employee experience
Throughout the years, Tradehit has aimed to be at the forefront of its field as an employer as well. We believe that the highest quality merchandising services are provided by salespeople and merchandisers who genuinely enjoy their work.
Thus, Tradehit values long term employment relationships and is committed to supporting employee satisfaction. The goal has also been achieved because the turnover of employees is very low, compared to the industry.
With the help of a committed and versatile staff, we are able to offer our customers high-quality and flexible service.
Tradehit today
When Tradehit started its operation, outsourced merchandising as its own industry was still a vision. But today, merchandising solutions are a competitive field for several players.
Tradehit has also grown over the decades to become a successful trendsetter in its own industry. A company is trusted by both employees and customers, such as L'Oréal, Paulig and Suomen Korttipiste – forerunners in their own industries.
Long customer relationships are a matter of honor for Tradehit. We currently serve approximately 50 customers, from groceries to hardware stores.
With high-quality, flexibility, and cutting-edge knowledge in the field.
Leave us a message, and we will respond to you as soon as possible.